St Ides, une bonne idée pour vendre de l'alcool aux jeunes, simple, limpide, l'identification, des petits spots avec les rappeurs phares de l'époque. Une réussite.

Tropico, une bonne idée pour vendre du sucre aux jeunes, simple, limpide, un gros qui fait bien le sympa dans des habits rigolos. Une réussite. Tout le monde s'en souvient.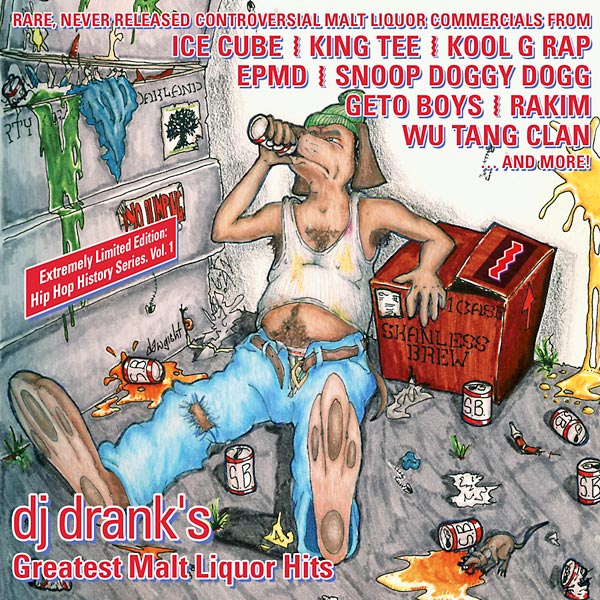 1) King Tee "St. Ides"
2) King Tee/DJ Pooh "Forty Ounce Fit for a King"
3) King Tee/DJ Pooh "Tha Bomb Malt Liquor"
4) King Tee/E-Swift "Do Ya Like St. Ides?"
5) King Tee "Do You Wanna Go To The Liquor Store?"
6) E-Swift/King Tee "Let's Have Some St. Ides"
7) Ice Cube/King Tee
8) Ice Cube/DJ Pooh/E-Swift "S.T. Crooked I.D.E"
9) Yo Yo & Cube "Femalt Liquor"
10) Ice Cube/Pooh "All I want for Christmas"
11) Ice Cube "Jackin for Malt Liquor"
12) Ice Cube "We don't want no 8-ball"
13) Ice Cube "Wish They'd Come up with a 12-Pak"
14) Cube/Pooh "Blind Fold Test
15) Eric B & Rakim "Real Men's Drink"
16) Rakim "Get Some....."
17) Yo Yo/King Tee "You Need A Six-Pack"
18) EPMD/Ice Cube "East meets West Malt Liquor"
19) Erick Sermon "40 oz or a can"
20) Kool G Rap/DJ Pooh/Sir Jinx "Getta Grip. Take A Sip"
21) Geto Boys/Cube "5th Ward/South Central Malt"
22) Geto Boys "My Malt's Playin' Tricks On Me"
23) Snoop Doggy Dogg "St Ides in the LBC"
24) Warren G "When We Sippin' On Tha Brew"
25) Nate Dogg "Drank Anthem"
26) MC Eiht "The Brew Took Me Unda"
27) Scarface "Drankin Toon"
28) Wu Tang Clan "Shaolin Brew"
29) Snoop Doggy Dogg "Dogg Food n Drank"
30) Ice Cube "Crooked I for All Ages"